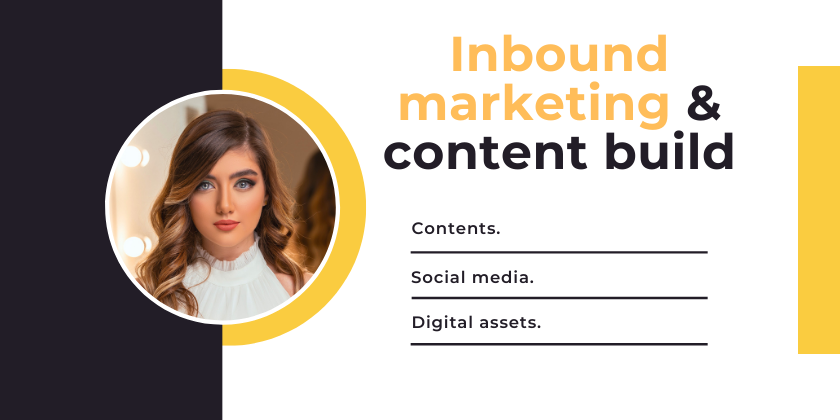 Content build & SEO
Sep 6, 2022
0
---
We start by looking on what matters when we embark on the process of search engine optimisation (SEO). There are several factors to consider from website to your social media platforms to how you perform on the outside world. It's hard to explain to a few people not to be inpatient when doing this. If you rush anything, it creates more problems and harder to solve. Avoid using a quick-win resolution. Does not work and you simply get penalised.
As a start, I would suggest looking at an SEO toolkit or a checker which will help you understand where both your website and contents require attention. You can buy our SEO tool for as little as £4.99, click to see more details. 
Now let's move to what is inbound marketing and contents.
Learning more on how inbound marketing works.
Both inbound marketing and content build are key drivers of making your online presence better. This is the same whether it's your website, your online marketplace or your ecommerce platform, content is the driving factor to building a good inbound marketing strategy. 
You probably have read through several blogs and articles which may have confused your insight to what is good inbound marketing. There needs to be a want for your ideas or products because confusing your visitors, would increase your bounce rate and this could lead to issues related to your domain authority. In other words, don't push traffic to your website if this will not serve their purpose. This provides negative impact to your SEO.
Growing good contents for your website or blog.
We spoke earlier about content, and we know that this is one of the most important parts of the search engine. Content is the heart of any website (e-commerce, blog, etc.) and speaks about your business or your brand.
Following a good content management means creating good content. If you're not tech savvy, then you can use a content management system (CMS) to help build your contents, as well manage and remove unwanted contents, that does not benefit your visitors.
Most business owners and marketer's focus their ideas based on what people search on Google, Yahoo, Bing or what is trending now, which at times, can create confusion of what you should write in terms of contents. You should consider building contents that would serve both your purpose and that of your customer. Notice the change of language from visitor to customer. The idea is that we need to turn our visitors to your digital platform to a genuine customer and we can truly do this through good content. SEO somehow became a lost process for a number of customers we speak to, and they believe it's all about traffic.
Not entirely, because unless you're for not-for-profit, you want to build your customer base and the driving factor is content. If your customer can feel they are at the right place, then it builds on a strong relationship.
So simply targeting keywords and phrases, whilst that is important, is not the essential when building your contents. SEO looks at your digital presence in a complete spectrum from how your website is easy to use, is whether your website serves its purpose or can you really help me to solve a problem. Further to that, whilst content is a critical part of your website, having a secured website provides your visitor the confidence in your brand. We offer a number of security packages to help secure your website, find more information here.
Using a web content management system (CMS)
To help manage your content, using a CMS is useful. A web content management system refers to the creating, managing, sourcing, and delivering comprehensive content for the end-to-end process. Content on the webpage must be managed like other content. Therefore, a web content management system is used to create content, store, manage, and display the website pages.
Your web console for the CMS can help you manage and control the contents that visible to your visitors. There are some key features of a web content management system:
The ability to organise and design websites to give effective and efficient access to up-to-date and relevant content.
The ability to prepare and control the content for publication.
The automation of key parts of the publishing content.
Using a content management system is useful and easy to manage, regardless of your technical ability. In the past, we had to use a developer to change the content as in most cases, a HTML editor was required. Now, this is not required and helps developers concentrate on other complex modelling rather than waste time on editing contents.
Issues to consider when building contents
When building contents, we need to make sure our sources are not copied nor paraphrase. Google and other search engines do not like to have contents that had been copied and pushes your domain authority down.
Your strategy on inbound marketing is not have copied contents. Regardless of this, how many of us would like to read the same contents twice. That alone brings bounce rates into your website and does not help on converting your visitor to a customer.
You can use tools to check if your contents are copied including those who take your contents and publish them in their website, blog, or social media.
Do you have a digital content management strategy
I see in most blogs and those who write about inbound marketing, fail to discuss this in good length. You don't need a marketer or a SEO expert to help on this. It's important that there is a strategy which is a plan of what you aim to do and how to achieve this. Your content drive is one of the strategies to focus but you also need to know who your ideal customers are. Building contents for the wrong audience, will not achieve the aim.
For example, if you're a consulting business in energy, then you need to look at decision makers within a business who looks after that part, so it could be the office manager and not necessarily a director. So, learning more of your audiences, will help drive your contents better; thus creating traction in your work.
In short, here is a list of ways to deliver content strategy, such as:
Establish your content goal.
You have to conduct a content audit and optimise.
You should define your targeted traffic segments.
Research keywords and create content based on your targeted keyword.
You need to map content through the customer's intention.
Learning more about how to deliver contents.
We have in offer several products that can help drive good contents. If you want a copy of our e-book of how to build good contents, email us at info@techics.com. I am sure we are all wary about being spammed, so rest assured, your data is secured with us, we don't sell to third parties, and we don't add you into any subscription plans.